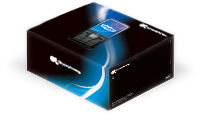 The other day I signed up to 3 and got myself a Skypephone. I have been playing around with it over the weekend and so far it's pretty impressive. The phone comes with Skype, which allows you to make free Skype-to-Skype calls; you can also use Skype Out too, which means that it's possible to make cheap international calls – much cheaper than making calls directly from the mobile! I called a friend of mine in Spain using Skype and the quality was pretty good; no different than if you were using Skype from a laptop. Best of all, it didn't cost a thing! Skype instant messaging works well too, although it took me a while to get used to the predictive text feature as it works differently to the one on my previous phone.
With the package I got I also get unlimited Internet use. The phone uses 3's HSPDA network that offers high data transfer speeds and so far the speed has been good when "surfing" the web; much, much quicker than T-Mobile's Web 'n Walk, which I was on before! I can use the phone as a modem too, which means that I can connect it to my laptop and get Internet access on my laptop (I haven't tried this yet). There are a bunch of applications pre-loaded on the phone including Facebook, MSN Messenger and a feed reader. 3 provide you with a free email address; this is useful as I wanted to be able to take photos on my phone and automatically publish them to my blog. Unfortunately I couldn't get this to work with WordPress so I set-up a photo blog here instead – I was able to retrieve emails from the email account I set-up but the body of the email always ended up being empty for some reason! I also had a problem when I installed the latest version of GMail but, as it appears lots of people were having this problem, somebody came up with a solution to the problem.
There are two features missing that I would like to have:
Regular headphone jack so I can use the same headphones that I use for my iPod Touch.
The ability to access WiFi networks – this would work out cheaper for 3 because I wouldn't need to use their network for data transfer.
 So far, so good. Oh, and you can make regular calls too 🙂